In addition to our main services, we also provide a number of additional, complementary services to help with the waste and excavation tasks faced by you or your business.
Tipper Hire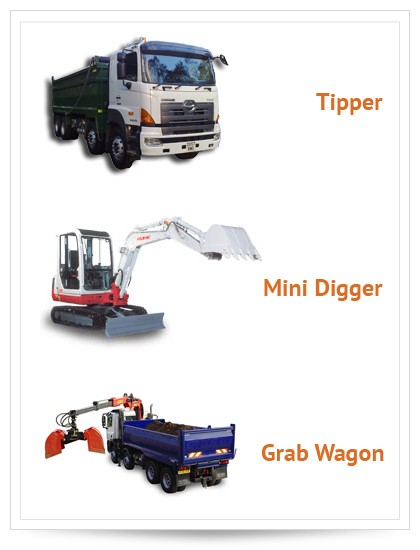 We run a fleet of 8 wheeled tippers for all of your muck shifting and delivery requirements. The tipper holds approx 20 tonnes of waste and when hired you will have one of our trained and insured drivers to cover all your requirements.
Mini Digger Hire
Why not take advantage of our qualified operators and hire one of our 3T mini-excavators for complete excavator and landscaping requirements. Along with the hire of the digger is a member of the Enviro Skip team who is fully trained in operation of the digger and insured.
Grab Wagon Hire
Ideal for self loading application and collections of materials when no loading machine is available. The wagon holds approx 20 tonnes of waste. When hiring the vehicle a fully trained and insured member of the Enviro Skip team will be on hand.

New and Recycled Aggregate Sales
There's no point burying rubble if it can be re-purposed and used for new building and landscaping projects. We know this – that's why we recycle aggregates to create quality recycled aggregates for use in:
Road Construction
Ground Improvements
Industrial and Commercial Construction
Residential Construction
Earthworks and Landscaping
Please call for more information regarding any of the above services on 01270 820 426 or use our contact form.
CALL NOW ON 01270 820 426 OR EMAIL BELOW…
Over 90% of your waste is recovered & reused