Our weekly wheelie bin collection services can be tailored to suit your requirements. We ensure the waste management needs of your business are hassle-free and we guarantee safe and secure disposal of your waste, much of which we are able to recycle, at one of our Environment Agency Licensed sites.
Highly-Durable Wheelie Bins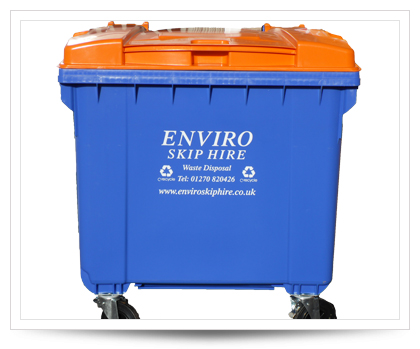 The highly-durable wheelie bins we provide are lightweight and fitted with wheels, suitable for indoor and outdoor use with available capacities of:
240 litres – Approx Dimensions: W 0.575mtrs x H 1.06mtrs x D 0.73mtrs
660 litres – Approx Dimensions: W 01.4mtrs x H 1.2mtrs x D 0.7mtrs
1100 litres – Approx Dimensions: W 1.4mtrs x H 1.3mtrs x D 1.1mtrs
Not suitable for liquid waste
Weekly Collection Service
Some of our current clients who use this service include:
Retail outlets
Pubs
Restaurants
Offices and industrial areas
Schools/colleges
To enquire further about this service please call us on 01270 820 426 or complete the contact form below.
CALL NOW ON 01270 820 426 OR EMAIL BELOW…
Over 90% of your waste is recovered & reused